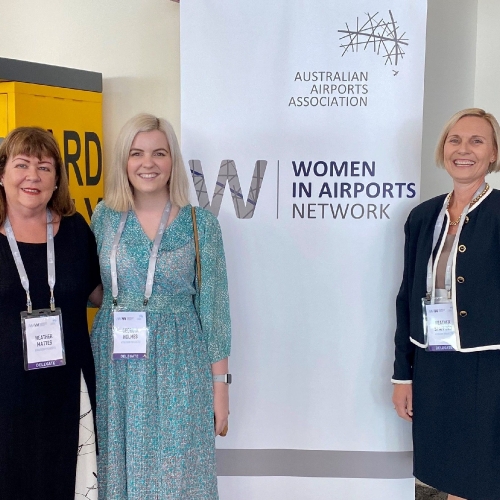 The inaugural Australian Airports Association (AAA) Women in Airports Forum was held on the Gold Coast this week, as the kick-off event to the AAA annual conference. The inspiring and motivational day was attended by Heather Mattes, Heather Stafford and Georgia Holmes. The forum was a chance to catch up with colleagues, meet new aviation professionals, and develop strong ties with women in the industry. The forum also provided a chance for personal and professional development, and highlighted leadership and advancement in the airport industry.
A wealth of knowledge was in the room, with women and men from various sectors within the airport industry, at different stages of their aviation careers. Key speakers included Kristi McLachlan - General Manager Delivery Strategy and Support Sydney Airport, Lorie Argus - Chief Executive Parking and Ground Access Melbourne Airport and Julieanne Alroe, Chair Infrastructure Australia. Panel presentations included a focus on building a successful career in airports, and action planning for leadership. Panel speakers included a range of highly successful women with contrasting professions within the industry, who shared their job history and provided insight into building and nurturing a successful aviation career.
Aviation Projects is proud to support diversity and inclusion in the workplace, and our staff benefited from the positive nature of the event. Aviation Projects is a proud corporate member of the Australian Airports Association and looks forward to attending future Australian Airports Association Women in Airports Forums in the coming years.
Tags: Women In Aviation