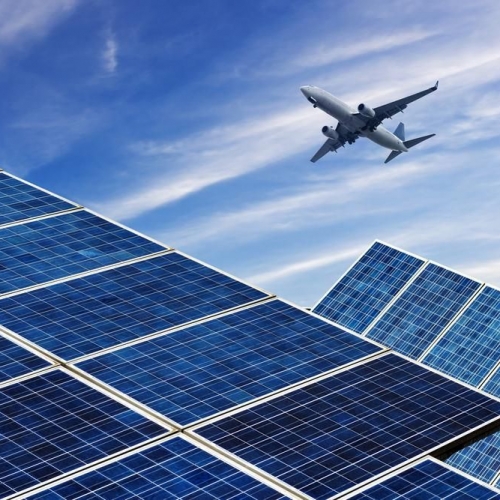 Globally, the aviation industry produces around 2 per cent of the world's total CO2 emissions. Airline carriers are responsible for a large portion of these carbon emissions. However, commercial aviation is committed to cutting CO2 emissions in half by 2050, making it one of the few global industries to commit to such a comprehensive environmental target. Manufacturing of fuel-efficient aircraft, such as the Boeing B787-Dreamliner or Airbus A350, is successfully reducing the industry's CO2 footprint.

Airports are also addressing their CO2 emissions by introducing various sustainable programs including the installation of renewable energy systems, reducing energy consumption, monitoring the efficiency of heating, ventilation and cooling systems, and purchasing electric vehicles and ground support equipment. Airport Carbon Accreditation was introduced in Europe in 2009 for compliance within the aviation industry. Since then 309 airports have enrolled in the program worldwide including 12 airports in Australia. Australian airports have the opportunity to demonstrate to the Australian community and the world that protecting the environment is a high priority.

As solar panels become more affordable Installing renewable energy systems may be the first step for an Australian airport to reduce its carbon emissions, especially when an airport has plenty of space available on top of their terminal building/ other buildings or unutilised ground space. As with any new project at an airport, solar panels can potentially pose a risk to aircraft safety by producing solar glare for pilots and air traffic controllers as well as possible interference with onboard and ground navigation aids. A solar glare analysis determines if the proposed installation of solar panels will result in an acceptable level of risk. Aviation Projects has assisted many solar farm developers, airports, and solar installation and construction companies with an assessment of solar glare and other risks posed by solar project developments. Our pre-feasibility analysis can provide early identification of potential aviation impacts and solutions to mitigate or minimise these risks. Contact us for information on how we can assist your airport reduce its carbon footprint.
Tags: Solar Panels, Aviation Risks, Renewable Energy
Related Articles