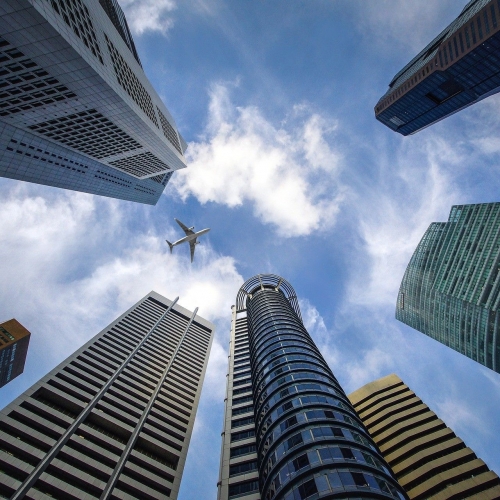 by Pavel Davidyuk (Specialist Consultant - Aviation Safety, Aviation Projects)
Does your development project incorporate the relevant aviation safety requirements?
Most analysts agree that Australia's apartment-building boom has peaked. Nonetheless, Australia is still well-placed to benefit from additional growth in non-residential construction and infrastructure spending. This will result in more high rise developments in our cities. Alongside this is the continued development of wind farms in rural/ semi-rural areas with turbine heights now often in excess of 150 m.
Construction should be in the line with relevant aviation safety regulations in order to avoid potential collisions between aircraft and high-rise buildings/ structures. It is essential to follow applicable CASA regulations concerning obstacles. Civil Aviation Safety Authority (CASA) Advisory Circulars and Manual of Standards Part 139 – Aerodromes set recommendations on obstacle assessment, airspace protection, and obstacle reporting and marking which must be followed by the proponent or owner.
Why is it important to consider CASA regulations? Any object that extends to a height of 150 m or more above local ground level is regarded as an obstacle unless it is assessed by CASA to be otherwise. If a proposed object or structure is determined to be an obstacle, details of the proposal must be referred to CASA to determine whether it will be a hazard to aircraft operations. There are other pre construction requirements which the proponent must meet before the development can commence. This usually includes submitting an Aviation Impact Assessment to the state infrastructure authority in order to obtain a development permit.
Aviation Projects has extensive experience in assisting our clients with airspace protection issues. Our team of highly qualified professionals have assisted many developers to obtain approval for their relevant projects, including wind farms and apartment block developments. For more information about obstacle requirements and airspace protection issues associated with proposed developments, contact Pavel Davidyuk on 07 3371 0788 or pdavidyuk@aviationprojects.com.au.
Tags: High Rise Structures, Wind Farms, Turbines, Apartments
Related Articles