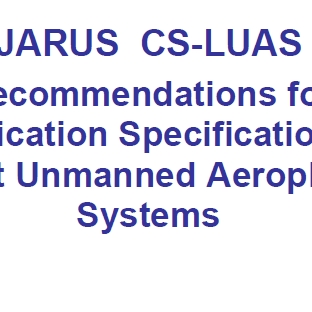 Joint Authorities for Rulemaking on Unmanned Systems (JARUS) has announced to the RPAS community that the deliverable "JARUS CS-LUAS - Recommendations for Certification Specification for Light Unmanned Aeroplane Systems" is now available on the JARUS website.
The JARUS-CS-LUAS aims at providing recommendations for States to use for their own national legislation, concerning Certification Specification for Light Unmanned Aircraft Systems. These recommendations represent the culmination of best practices and procedures used in RPAS approvals to date.
The new specification complements existing CS-LURS (Light Unmanned Rotorcraft Systems), with applicability described as follows:
Depending on the risk of the intended operation, this airworthiness code is applicable, as a whole or in part, to fixed wing Remotely Piloted Aircraft (RPA, with a Maximum Certificated Take-off Weight (MTOW) not exceeding 750 kg.
For RPAS with a conventional design, alternative requirements can be applied.
Within the current CS-LUAS, a Light Unmanned Aircraft System Type Design is defined as a single Aircraft controlled by a single Control System.
In operational terms, applicability of this airworthiness code excludes all human transport and flight into known icing conditions.
CS-LUAS covers the requirements for BVLOS operation with the exception that the requirements for any detect and avoid technology ensuring safe separation are not yet developed.
For the purpose of CS-LUAS, multi engine RPAS which are not able to meet the multi engine requirements of Appendix E, to maintain the continued safe flight and landing after a single engine failure shall be considered as a single engine RPAS for compliance demonstration.
The document can be downloaded from the JARUS website at http://jarus-rpas.org/publication
Related Articles