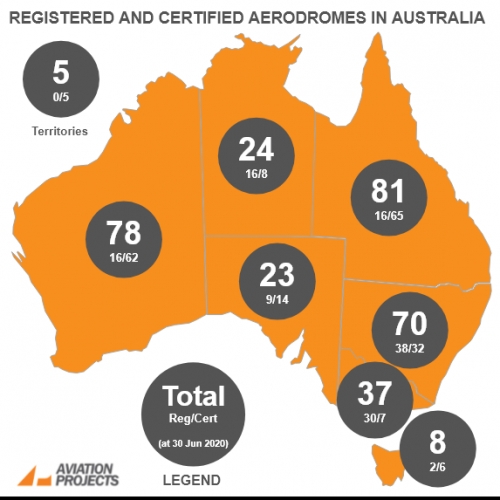 We have been keeping an eye on the transition of aerodromes to the new regulatory framework due to come into effect in August 2020.
With the new Civil Aviation Safety Regulations (1998) Part 139-Aerodromes and supporting Manual of Standards Part 139-Aerodromes due to come into effect on 13 August 2020, many operators of aircaft landing areas (ALAs) and registered aerodromes are considering whether to upgrade to a higher standard and transition across, remain as is, revert to a lower standard, or wait and see.
Since our last review in February 2020, CASA's online register shows that one additional aerodrome has been registered, bringing the total number of registered aerodromes to 127, and one new aerodrome certificate has been issued, bringing the total number of certified aerodromes in Australia to 199.
Peterborough/Great Ocean Road (YPTB), located on Victoria's Great Ocean Road, is operated by Glenample Air Pty Ltd and was registered on 26 June 2020.
Eliwana (YEWA), located in Western Australia's Pilbara region and operated by Fortescue Metals Group Ltd, was issued its aerodrome certificate on 18 May 2020.
Tags: Registered Aerodrome, Certified Aerodrome, Airport Regulations
Related Articles