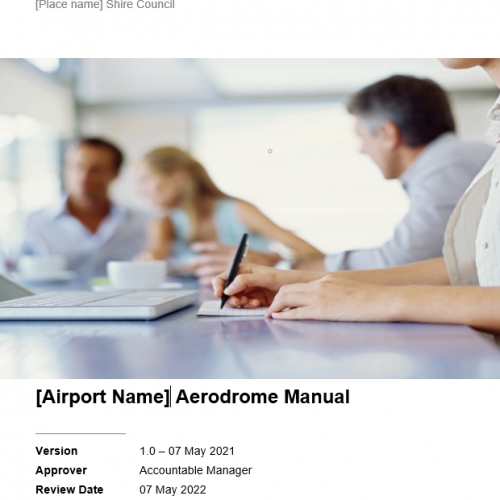 Existing Certified Aerodrome operators will by now have submitted their updated aerodrome manual to CASA for review. Now, existing registered aerodromes (holding a transitional aerodrome certificate from August 2020) are required to develop their aerodrome manual in time for the 13 May 2022 deadline.
May 2022 seems a long time away but just ask an existing certified aerodrome how fast the deadline approaches. In fact, now is the best time for existing registered aerodromes to be considering the development of their new manual which is not just a matter of completing a template but establishing and implementing processes, systems and operating discipline required under Part 139 MOS 2019. The manual will also be the basis for applying critical grandfathering provisions to support existing facilities subject to updated standards.
Commencing the process of developing the aerodrome manual and associated requirements early will enable a seamless transition for aerodrome operators and ensure that processes and systems implemented as part of the aerodrome manual are effectively embedded and functioning well before the deadline. Although the aerodrome manual isn't due until May 2022, existing registered aerodromes are required to operate under the revised CASR and Part 139 MOS already.
Aviation Projects is a trusted advisor to regional airports and has extensive experience in developing aerodrome manuals and supporting documents for airport operators commensurate with their operating profile. We can provide a bespoke solution to developing the manual, meeting the requirements of Part 139 and establishing protocols that not only meet the minimum standards but importantly, are sustainable and functional for regional aerodromes into the future. The aerodrome manual is not just a tool to retain aerodrome certification, but will be the basis for safe, secure, efficient and sustainable aerodrome operations into the future.
Our service can be delivered remotely, or can include a site visit with one-on-one consulting, mentoring and assistance in developing required protocols.
To find out more about how we can help with aerodrome operations and compliance, contact us.
Or download the Capability Statement via the link below.
Tags: Certified Aerodrome, Registered Aerodrome, Aerodrome Manual, Aviation Safety, Aerodrome Operations
Related Articles