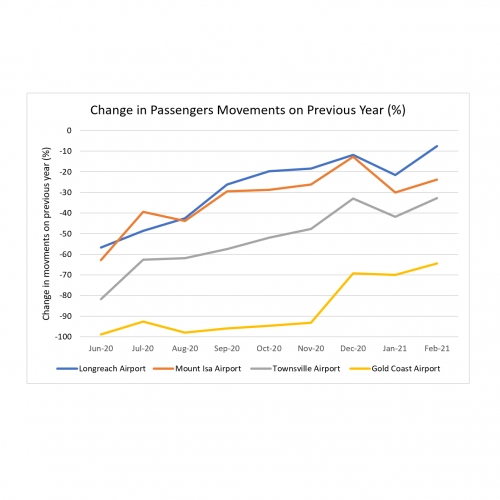 Increased confidence in borders remaining open and domestic airlines returning their aircraft to the skies is seeing some regional airports, and especially those that support intrastate flights, experiencing a return to precedented times with passenger movements almost back to normal.
And with the COVID-19 vaccine being rolled out across the country and the Easter break approaching, State and Federal Governments are encouraging Australians to travel domestically. The Queensland Government is sponsoring an advertising blitz to encourage southern tourists to visit the Sunshine State. These advertisements clearly work, with the Queensland Tourism website attracting more than 622,000 visitors in January 2021, the highest number of monthly visitors in two years.
Airlines are also showing signs of confidence. Qantas reported as of December 2020 that its domestic capacity was back to almost 70%. The airline has also put on many new routes across the country, including flights from Albury to Brisbane, Cooma (Snowy Mountains) to Brisbane and Norfolk Island to Sydney.
We thought it would be interesting to see how the different airport segments are doing, so we reviewed the passenger movements at the 4 representative airports operated by Queensland Airports Limited - Gold Coast (International), Townsville, (Interstate) Longreach (Intrastate) and Mount Isa (Intrastate).
The chart shows monthly change as a percentage of the number of passenger movements compared with the same month in the previous year.
The numbers are promising but tell a story of different markets.
Gold Coast Airport experienced the greatest reduction in passenger movements, and as an International airport, this is no surprise. As of February 2021, passenger numbers were still 64.5% below where they were last February. International travellers represent about 15% of the total passenger movements at Gold Coast Airport, so there is still a significant proportion of domestic travellers (tourists) yet to return.
Townsville Airport supports a broad range of intra- and inter-state flights carrying passengers travelling for business and visiting friends and relatives (VFR) – essentially the middle of the market, and has a way to go before its passenger movements are back to normal.
Longreach and Mount Isa are nearing 0% change on the previous year, meaning both airports are almost operating at the same capacity they were pre-COVID. It is to be expected that small regional airports across the country are also seeing their passenger movements returning to 'normal', as restrictions to travel have essentially been removed. All we need is for the internal borders to remain open and the aeroplanes back!
Based on our analysis we can see that the resurgence of passenger movements in Australia will take some time. Smaller regional airports supporting regulated and business-related intrastate operations like Longreach and Mt Isa will return to normal first. Then we can expect to see interstate operations like Townsville return to operating as usual. Finally, once International borders are open we expect to see the return of international passengers to our major regional and capital city airports.
Tags: Regional Airports, Precedented Times
Related Articles