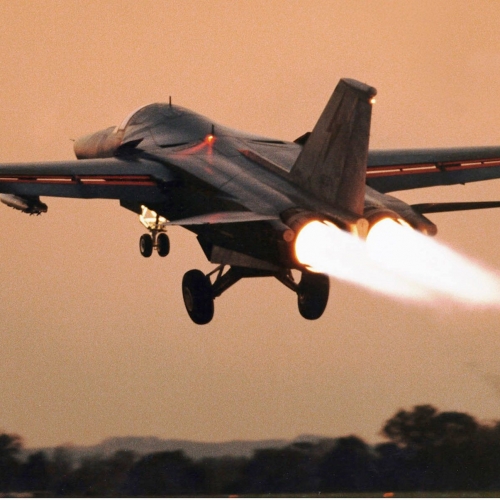 When you've been in the aviation industry since 1986, you are bound to find yourself in interesting situations, with unique stories to tell.
This is certainly the case for Managing Director Keith Tonkin.
On Monday 4 April, Keith was invited to Yeronga-Dutton Park RSL in Queensland to share his stories and experiences with a gathering of ex-service people.
Keith's story
Keith started his aviation career in 1986 with the Royal Australian Air Force (RAAF), flying short-haul tactical transport and humanitarian operations in Caribous, follow by projecting Australia's Air Power in the supersonic long-range F-111 in strike and reconnaissance roles.
Following 15 years in the RAAF, Keith moved to Qantas where he spent nine years flying B747-300/400 and B737-300, 400 and 800-series aircraft as a part of Qantas' international and domestic airline operations.
With a Master of Business Administration (Aviation Management) and his extensive aviation experience, Keith started up Aviation Projects – Australia's leading airport and aerodrome specialists, trusted to deliver innovative solutions to complex aviation problems.
Among a long list of achievements, Keith has been commended for his work on the initial Master Plan for Toowoomba Wellcamp Airport and won industry awards for the Busselton-Margaret River Airport Master Plan and the Archerfield Airport Airspace Optimisation Project. He has provided expert advice about airport planning, operational risk and aerodrome safeguarding to government and corporate clients throughout Australia and the Asia Pacific, including Singapore, Indonesia, East Timor, Papua New Guinea, Vanuatu and Nauru.
Reflections
Reflecting on his aviation career so far, Keith shared some important memories and reflections with the people at Yeronga-Dutton Park RSL. Here is what he had to say.
"It was a true privilege to be part of the Air Force team, fly highly capable aircraft in some pretty interesting places, with motivated and professional people" he said. "Being involved in the introduction of the Aviation Risk Management Program set me on the road to consulting about aviation safety and aerodrome safeguarding".
"And while you can't fly airliners inverted, with Qantas I travelled to places like Rome that I wouldn't have gone to otherwise".
"Now I am able to adopt my many years of knowledge and experience, along with the rest of the Aviation Projects team, and use it to address our client's needs".
At Aviation Projects, we provide trusted advice about airport planning, development and operations and aerodrome safeguarding. Contact us today.
Tags: Aviation, Aviation Projects, Airports, F-111, Caribou, Qantas, Air Force, Employee Stories, RAAF
Related Articles