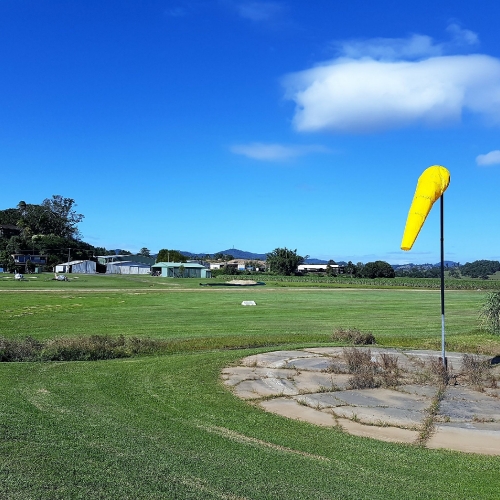 Aviation Projects has been working with Tweed Shire Council to enable some decisions about potential development lease options on land at Murwillumbah Airfield, located in picturesque northern New South Wales.
Murwillumbah Airfield represents all of the problems and opportunities associated with owning a strategic community asset. There is an ongoing tension between clearly definable economic and social benefits and the costs of achieving them.
The airfield, an unregulated aircraft landing area located in uncontrolled airspace, is home to an aero club, aerial agriculture operator, aircraft maintenance organisation, vintage aircraft restorer, aerial work company and a number of private aircraft owners. It also serves as a satellite facility for flying training schools based at the Gold Coast. Council has recently installed a concrete helipad for aeromedical patient transfer operations and NSW Rural Fire Service is installing a large water tank to support seasonal aerial fire-fighting operations. The entrance road and carpark were recently resealed to provide good quality all weather access.
We considered the current site and facilities, planning constraints (flooding, acid sulfate soils, land use, aerodrome safeguarding), existing fees and lease arrangements, stakeholder expectations, market issues and demand, governance and development options and associated costs, expected rental returns, a revised fees and charges strategy and developed a robust financial model to inform Council's decision making.
Two weeks after the report and its recommendations were adopted for implementation, the remnants of Cyclone Debbie dumped torrential rain on the region, causing widespread flooding and devastation.
The airfield lies within and is of itself a flood corridor. Locals reported seeing water up to 5 m deep on the airfield. Most of the hangars on the airfield were flooded. All the aircraft that were parked inside them, as well as those aircraft parked outside, were damaged. Some irreplaceable records were lost.
Then, three weeks later, a local pilot tragically lost his life after crashing his ultralight aircraft in rugged bushland to the west of Murwillumbah.
Council's General Manager and support staff decided to arrange a meeting with the local aircraft operators to provide an update on the outcomes of the review and the next steps, giving due consideration to the significant financial and emotional impact of recent events. Our Managing Director Keith Tonkin was privileged to be invited to attend this meeting, and saw for himself a recently mowed, tidy airfield bathed in sunshine. The sound of a helicopter conducting training intermittently interrupted the discussion. The group of passionate aircraft owners and pilots showed genuine interest in what Council had to say and asked plenty of informed questions, whilst Council reinforced its genuine intention to maintain and develop the airfield in line with community and stakeholder expectations.
Just another day in GA heartland.
Tags: Airport Planning, Aerodrome Safeguarding, Hangar Development
Related Articles