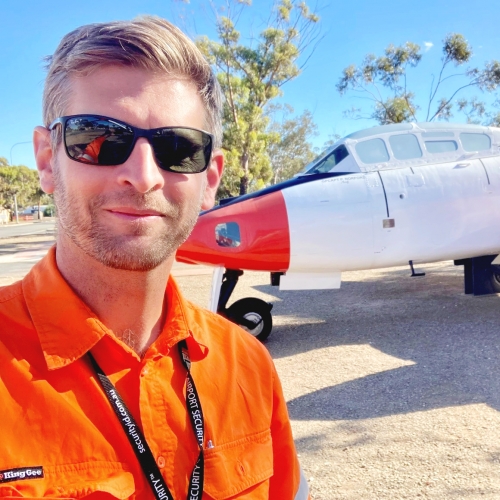 When working on regional aerodromes, you never know where you might end up during your travels.
Airport Operations Consultant, Jarrod Bell was recently in South Australia conducting an inspection of a remote airfield and providing advice and analysis on the aerodrome facilities in relation to the current standards for certified aerodromes. The inspection also involved identifying any gaps that might affect aircraft safety. While on his site visit, he found himself in the historic town of Woomera, known for the Royal Australian Air Force (RAAF) Woomera Range Complex (WRC).
The Complex is located approximately 5.5hours north-west of Adelaide and comprises of RAAF Base Woomera (No. 20 Squadron), the Woomera Test Range (Air Force Test Ranges Squadron) and the Nurrungar Test Range.
RAAF Base Woomera provides essential operational support to the Range and includes the Woomera airfield, hangars, technical areas, and village. The Base is operated by 20SQN, a command unit of the Combat Support Group. The Woomera Range Complex supports flight test activities, and as such the Base is able to accommodate for the operation of all current aircraft types used by the Australia Defence Forces, including the large C-17 Globemasters and the smaller fast-jet aircraft.
The Woomera Test Range supports a wide variety of trials covering many defence-related technologies including ground-based weapons systems, explosive ordnance and hazardous materials, and specialised force preparation activities. The principal capabilities at the Range, include a fully instrumented air weapons range, demolition ranges and live firing ranges and target areas for both aircraft and artillery. Woomera is also the recognised home of military Unmanned Aerial Systems testing in Australia – this includes testing new aircraft like the Loyal Wingman.
The WRC is encompassed by the Woomera Prohibited Area (WPA). This is not accessible to the public as it is used for the testing of war materiel, under the control of the RAAF – the airspace above the WPA is also restricted. The WPA is a globally unique military testing range as it covers 122,188 km2 and is the largest land testing range in the world.
The village of Woomera is largely Defence-owned and operated and is considered to be an 'open base' rather than a remote town. The village has a population of approximately 150-200 people, however, can accommodate up to 500 people, when required. Although the Complex and RAAF Base is closed to the public, the town has four historic locations which attract approximately 65,000 visitors per year.
These four heritage locations and tourist attractions include:
Woomera Aircraft and Missile Park – featuring missiles and rockets that were developed and tested at Woomera over the past 60 years, and a number of aircraft which were used in trials at Woomera.
The Woomera Heritage Centre – a former recreation centre for USAF personnel and their families, now featuring a café, tenpin bowling alley, modern interactive displays, interpretive centre, a souvenir shop and a regional historic display.
Woomera Museum – a former church, this museum now features a range of artifacts and activities reflecting the history of this defence town.
Woomera Baker Observatory – operating one night per week, the observatory is a haven for understanding and observing Australia's desert flora and fauna.
Interestingly, almost half of Woomera's 65,000 visitors per year also go on to visit the BHP Olympic Dam Mine in the nearby town of Roxby Downs.
Interesting fact: a Woomera is an Australian Aboriginal spear-throwing device, described as "the most efficient spear-throwing device ever". It is an enabling device that allows a spear to travel much further than with arm strength alone. The Woomera is still used today in some remote areas of Australia.
Woomera is one of many locations we have come across while visiting regional aerodromes.
At Aviation Projects, we provide trusted advice about airport planning, development and operations and aerodrome safeguarding. Contact us today.
Tags: Aviation Projects, AP, Aviation, Aerodromes, Aerodroming, Airports, Aerodroming, Defence, ADF, RAAF, Woomera
Related Articles