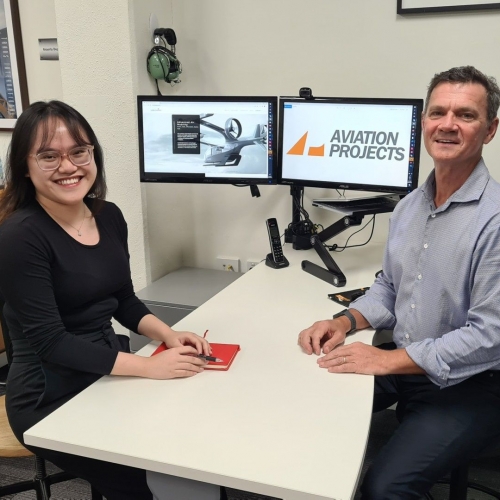 Everyone is talking about eVTOL aircraft – the potential use cases, electric propulsion systems, the potential for hydrogen as an energy source, and the benefits to communities and cities. However, there are limited discussions around the negative effects and impacts that these aircraft may have on the communities which they serve.
Griffith University student Nhu Quynh Le (Quin) has taken the opportunity to undertake a research-based internship with Aviation Projects through the University's highly rated Work-Integrated Learning program. Quin, who is studying towards a Bachelor of Aviation Management, has set herself apart from the crowd by exploring the potential adverse effects of eVTOL aircraft.
Quin expressed the importance of fully understanding the impact these aircraft have on communities, as she believes society's acceptance is an unneglectable factor in the successful commercialisation of eVTOL aircraft into the market.
The research project Quin is undertaking as part of her internship includes conducting a literature review on the research topic, performing a comprehensive community engagement piece by collecting primary data (survey), and preparing a research paper on the topic and her associated findings.
Further to the research paper, Quin also has the opportunity to visit nearby aerodromes and learn from industry professionals on how to conduct inspections of airport facilities and ensure it meets safety standards.
"Working with Aviation Projects will give me more experience and insight into the aviation industry, as well as provide me with several essential skills needed in airport operations and for facility inspections. The knowledge gained will help me along my chosen career path, and act as the first step in my aviation career," she said.
Managing Director, Keith Tonkin said, "Understanding how these types of aircraft will impact communities is extremely important to providing trusted advice to our clients. Aviation Projects supports industry research and education internships, not only to help develop the upcoming workforce but also to further our knowledge in emerging areas of importance to our industry."
At Aviation Projects, we provide trusted advice about airport planning, development and operations and aerodrome safeguarding. Contact us today.
Tags: Aviation Projects, AP, Internship, Education, AAM, Advanced Air Mobility, EVTOL, Griffith University, Griffith Aviation, Aviation
Related Articles