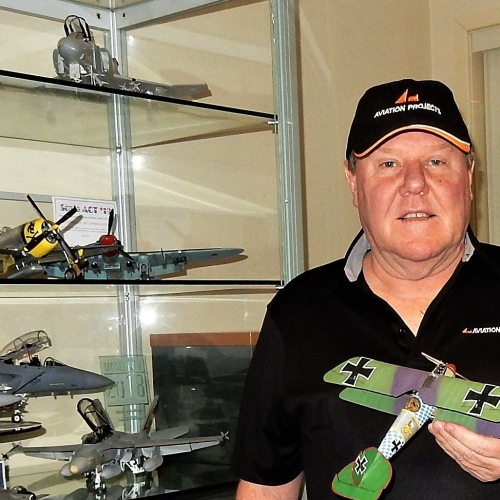 Peter White, one of our Aerodrome Safeguarding specialists, is a keen scale modeller who spends many hours creating scale replicas of his favourite aircraft and the odd tank, car, or ship model.
Peter specialises in large scale models, mainly 1/32nd scale aircraft ranging from World War I biplanes such as the Albatros D.V, Camel, Rolands and Nieuport, through World War II fighters such as the Thunderbolt, Mosquito, Spitfire and Corsair and modern jets such as the F/A-18, F-15, F-4, Mirage, Phantom and Starfighter.
Matt Hall's F-15E from his Gulf War service, fully armed as per a particular mission he describes in his book "The Sky is not the Limit", is a centrepiece of the big jets shelf.
The occasional Star Wars spaceship, a warship – IJN Yamato, and a Centurion tank in Aussie Vietnam War guise and a large steam locomotive – BR52, also fill a shelf or two.
Several models have won and placed at major and club competitions and at model exhibitions in Australia and New Zealand - these models take pride of place with the trophies in the display cabinet in Peter's office.
Peter is not likely to run out of models to build any time soon, as he has a cupboard or two full of unbuilt models, and a comprehensive reference library enhanced by computer research to ensure each model represents the original subject as closely as possible.
While "playing with his plastic", Peter is readily available to handle urgent and out of hours tasks for our clients by jumping into his nearby home office and getting into action on his work computer.
Peter is readily able to draw on his civil flying experience, extensive military and civilian air traffic control operations, procedure design and airspace experience to comprehensively assist major and minor infrastructure project developers to make the most of the available airspace without having an adverse impact upon flight safety or the regularity of use of nearby airports or private airstrips.
Tags: Aerodrome Safeguarding, After Hours, Aircraft
Related Articles