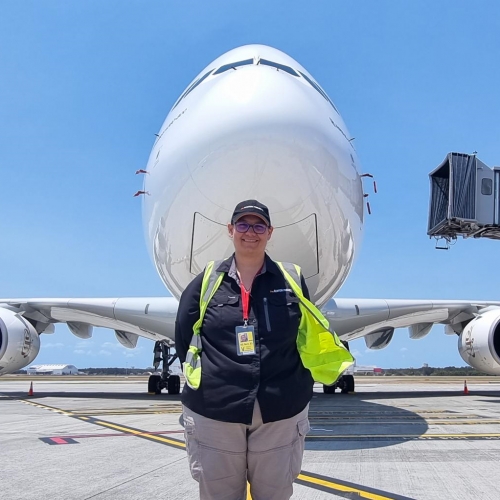 Last week, our resident ARO Sharna Tonkin was fortunate enough to be invited to spend a few hours experiencing airside operations at Brisbane Airport (YBBN).
The tour highlighted both the subtle, and not so subtle, differences between YBBN, a certified aerodrome, and its closest aviation neighbour, Redcliffe Aerodrome (YRED). The notable difference in YBBN operations and that of the bustling ALA of YRED, were the presence of Air Traffic Control and the impressive size of aircraft and their accommodations at the facility, including complex security requirements.
YBBN's approach to wildlife management also made for interesting discussion, opening tales of encounters experienced throughout all kinds of airside careers, including management of wild boar and even a 3 m crocodile!
The daily operations of the ARO team at YBBN were notably familiar, including serviceability inspections, FOD collection, WSO duties, with an obviously larger scale operation involving numerous and defined roles. The benefits and complexities of a larger team were identified in comparison to the smaller but equally as effective operation carried out at YRED.
There was a shared appreciation of the relationships built with airport stakeholders as well as industry colleagues and the importance of being supported by a good team. Building relationships based on trust, with competent and reliable personnel is integral to maintaining safe and sustainable airside operations.
It was encouraging to witness first hand the similarities between our local ALA, and the large scale operations of YBBN, with importance placed on the same systems and processes surrounding aviation safety. Whether operating alongside a B717 or a Cessna 172, the attention to detail displayed each day by our airside operators is invaluable.
Tags: Aviation, Safety, ARO, Aerodrome Reporting Officer, YRED, YBBN
Related Articles