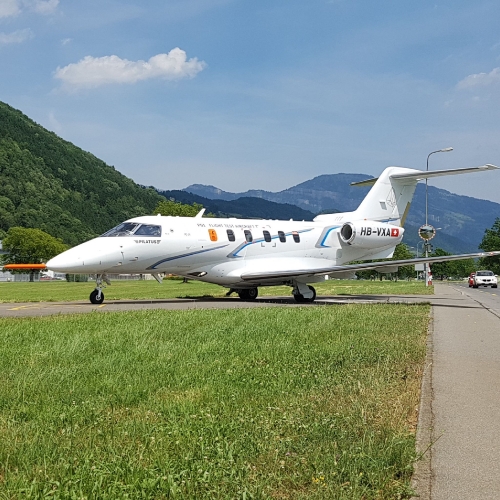 The snow-capped peaks of the Swiss Alps seem a long way from Australia's hot and dusty Outback. But in the shadows of Mount Pilatus, a new aircraft is taking flight that will be a game changer for those needing an aircraft that can operate off short (and potentially unprepared) runways and fly longer routes, faster, than can be accomplished by commonly used turbo props.
In fact, Pilatus, the manufacturer of the PC24, calls it the Super Versatile Jet. With a cargo door fitted as standard, the ability to operate off unsealed runways and a take-off balanced field length of 820 m (compared with 1,006 m for the Kingair 350i), why wouldn't you call it that.
Australia's Royal Flying Doctor Service is one of the launch customers for this new aircraft and expects to be operating them in the first half of next year.
Aviation Projects Managing Director Keith Tonkin was at Buochs Airport to see Prototype 01 HB-VXA complete a flight on a relatively warm (for Switzerland) and sunny day. We now wait in eager anticipation of the day when we see its younger siblings operating in 40+ degrees off less than perfect runways providing crucial aeromedical support to our remote communities.
As airport master planning consultants, we have a keen appreciation of the tension between aircraft operators desiring upgraded airport infrastructure to support larger and more cost effective aircraft, and airport owners with limited means to fund the upfront capital and ongoing operational costs of the upgraded facilities. By providing increased performance and a more robust operational envelope, the PC24 will significantly ease this tension. And if, as Pilatus says, the aircraft's performacne will exceed expectations, then the sky is really the limit.
Tags: PC24, Airport Master Planning
Related Articles