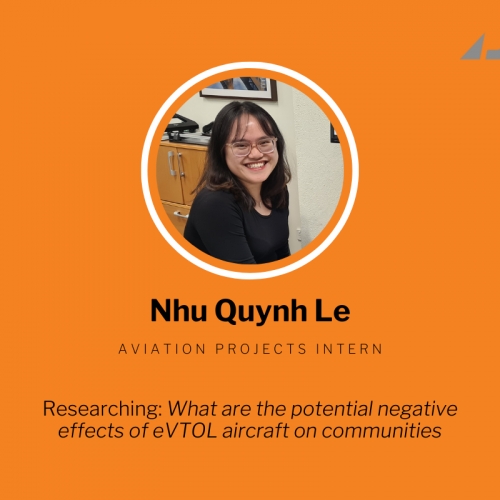 In April, we shared a blog about our Griffith University intern, Nhu Quynh Le (Quin), who was one of five aviation students given the opportunity to take part in the university's highly regarded Work-Integrated Learning program.
Quin's internship forms one of her final Bachelor of Aviation Management units, prior to graduating at the end of the current trimester. The internship was research-based and aimed to discover the potential negative effects of electric vertical take-off and landing (eVTOL) aircraft on communities.
Quin's interest in this subject matter came as a result of watching the world change and technology develop. With a rising global population, inner-city congestion and climate change concerns, a solution had to be developed to solve these global issues. The aviation industry has come together to develop what is likely to be one of the biggest changes to aviation transportation in the past 100 years – eVTOL aircraft.
Globally, various jurisdictions are already planning, demonstrating, and even commercialising these aircraft into mainstream transportation. Although Australia doesn't have the same congestion issues as many other continents, the potential for introducing this new technology has communities talking.
The eVTOL technology brings many potential benefits – the decarbonisation of flight, improvement of regional health outcomes, noise reduction, improvement to existing transport networks and connecting communities. With a variety of benefits, what is holding this technology back from being established in Australia? One of the more significant issues is community support.
Little is known and understood about the potential negative impacts of these new aircraft and more specifically how communities feel about them. The eVTOL technology has grown significantly in recent years, but many community members still believe air taxis are a fantasy and not a reality.
Our intern Quin set a goal upon commencement of her internship to better understand these impacts and to find out what variables impact the business sector and users' adoption of eVTOL aircraft. A key aspect of Quin's research was to understand the Australian community's knowledge and perspectives of eVTOL aircraft – achieved by conducting an online survey. The survey results highlighted safety being a major concern of respondents (64%), and therefore one of the largest barriers to overcome in the adoption of eVTOL technology.
The survey results also highlighted four other significant concerns of respondents (over 1/3 of respondents have these concerns); environmental impact (38%), trust in automation (36%), lack of experience (33%) and noise (33%).
All concerns and their associated results can be found below: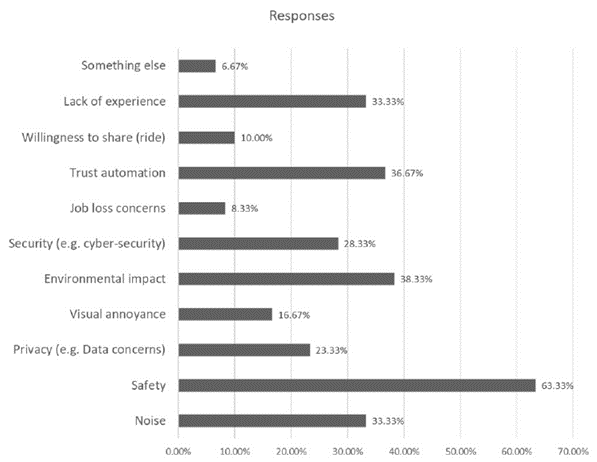 To effectively commercialise eVTOL aircraft in the Australian market, these major issues need to be addressed to minimise community concerns and increase community acceptance and support. Current results show that 27% of respondents are accepting of eVTOL aircraft as a form of transportation, 52% were uncertain and 21% were against the technology.
Managing Director, Keith Tonkin said, "Understanding the key community concerns and community support levels helps us to provide better advice to our clients, and further our knowledge in emerging areas of importance to our industry."
At Aviation Projects, we provide trusted advice about airport planning, development and operations and aerodrome safeguarding. Contact us today.
Tags: Aviation Projects, AP, Aviation, Griffith, Griffith University, Internships, Education, Research, Evtol, Aircraft, Electricaircraft
Related Articles